View our Niagara Videos below:
Niagara Falls was absolutely beautiful! And we had the most perfect weather! We got to do most of the attractions - Maid of the Mist and Cave of the Winds, the Aquarium as well and some others. We had such an awesome time. Our hotel room was humoungus we weren't even sure what to do with ourselves and the jacuzzi tub was amazing. It came in very handy on Saturday when we had walked ALL DAY LONG and my whole entire body ached. It was heavenly to go back to that tub at the end of the day. We walked across the Rainbow bridge over to Cananda on Saturday and it was a big deal as it was the first time we had both been out of the Country. :) We had more trouble getting back into the U. S. than we did getting in to Canada. It was super crowded on the Canada side you could barely move. But people were really sweet and we had some guy offer to take our picture when I was trying to set the timer up. :) I took lots of people's pictures for them, I guess I seemed like a picture type of person. :)

The Cave of the Winds we didn't get to do until Sunday afternoon before we left. We tried to get there first thing in the morning, as soon as they opened at 9:00 a. m., but they were already packed! We left and got breakfast, checked out of our room, and went back and got in. And we are so glad we had that opportunity. We had bought a waterproof camera, and I am so glad that we did because our camera would have died. We got absolutely drenched on the Hurricaine deck, but we had a fabulous time and the pictures are just awesome. We changed afterwards in the bathrooms, and didn't really have a choice as we didn't think our underwear would ever dry if we didn't. But what a fun attraction. I would definitely do it again. Jamie loved Niagara Falls so much and wants to go back sometime in the winter.

The Top of the Falls Restaurant is where we ate dinner Friday and Saturday and they had amazing food. On Friday we got to see the fireworks right from our seats outside on the deck and they had two guys there playing the saxophone and the organ. It really set the mood and made it a really nice night. I splurged and got a delicious chocolate brownie cheesecake. After the guys finished playing I went over to tell them that we really enjoyed the music and told them that I wasn't sure if anyone ever let them know that people really listen to them, because it seemed like everyone was ignoring them. They thanked me for taking the time to tell them that and said that they are always wondering if people are actually listening because it always seems like no one is and no one ever says anything to them. Later Jamie told me that he saw some guy tip them, so I went up as well and said, "I'm not sure if we're even supposed to tip you or how much." They wouldn't take my money and said they never get tipped. I told them that Jamie had seen some guy tip them and they said it was the first time ever and they were quite surprised so I said, "Well here, take this. You definitely deserve it, especially since no one can even take the time to let you know that they were listening." :)

Afterwards we walked down to the falls as they light them up at night and it was just beautiful. I never wanted to leave because it was just so perfect standing there so close.

You seriously could spend a whole week up there and not get bored. My plan initially was to do everything on Saturday and just hang around on Friday, but that didn't quite work out, and I'm so glad because there's so much to do, you can't fit it all into one day. We spent from Noon - 10:00 p. m. at Niagara on Friday, all day Saturday, and a couple of hours on Sunday and there were still some things we didn't get to do. And we never even made it off of the park (except to go to Canada) to see what the rest of the town had to offer, we were constantly busy and just had such an amazing time.

We had lunch in the park both Friday and Saturday and their burgers were absolutely amazing. I've never liked a cheeseburger quite so much. On Saturday night we went back to the Top of the Falls restaurant, sat outside again and shared a huge Nacho appetizer as our meal. Jamie had gotten it the night before and I had nibbled off of it and decided it was the most perfect plate of Nachos ever, so we ordered them on Saturday and I couldn't stop eating because they were amazing. Jamie said he didn't think they were that great, but I just thought they were perfect. We also got dessert that night. Jamie got their sundae, which was huge and he couldn't finish, and I again got the Chocolate brownie cheesecake. We had a coupon for 10% off that you got when you bought the passport to the falls which included all of the attractions, and we had an extra one, so I gave it to the people next to us who had about eight people there, so I figured if anyone would enjoy a 10% off coupon, it was them. :)

Everything was just perfect. I thought it was going to be too cold as it was only supposed to be in the 70's, but it was just perfect weather. We were comfortable from morning to night. The drive was hefty, but we will definitely go back again. Though it's really hard to leave once you get there.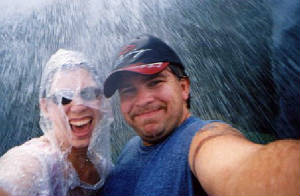 Getting absolutely drenched on the Hurricane Deck.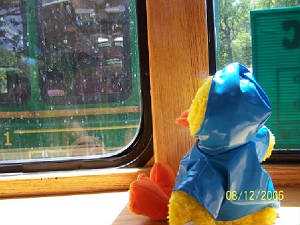 My souvenir, Duck, sitting on the trolley contemplating life.